Ohio Music Shop...
...Much More Than Just a Music Store!!!


The birth of Ohio Music Shop actually began in the late 1960s. Sounds from Peter, Paul & Mary and The Kingston Trio began to mix with the Beach Boys, Beatles, Stones, and The Byrds.
Northeast Ohio became a hot bed for breeding and attracting talented musicians - Phil Keaggy, Joe Vitale, Freddie Salem, Joe Walsh, and the list goes on. Music groups like The Lime, Devo, Glass Harp and The Measles still command respect in the music industry. There is very little wonder why the Rock & Roll Hall of Fame is located in Cleveland, only 35 miles from Ohio Music.
Also, for better or worse, Kent, Ohio and Kent State University will live forever in the history of music through Neil Young's immor
tal song, "Ohio."
The actual birth of what today is Ohio Music Shop began back in 2006. A few of the founders were still actively performing. In fact, they each were in bands playing over a hundred gigs per year. They desired to recreate some of the sounds that digital equipment had sterilized out of current music.
Thus began Old School Effects (a completely hand-wired series of effects pedals for guitars) to bring back to a small but demanding group of players the feel of the glory days of rock & roll.
But, having a life long passion for music and sound, these performing musicians couldn't stop there. Because many were guitar and bass players, they were spending thousands of dollars on instruments that still weren't exactly what they wanted, but were the only ones available to them.
This was the beginning of the Woody James line of acoustic and electric guitars and basses. From the very first prototype 6-string acoustic guitar, the entire line, which now comprises 22 models, has been designed, assembled, and individually set up on Woody's kitchen table and now at the shop in downtown Kent, Ohio.

When you come into Ohio Music Shop, you will see over 200 guitars and basses on sale. While Ohio Music Shop features the complete line of custom Woody James instruments, you will also see high quality new instruments from Heritage, Schecter, ESP/LTD, etc., as well as the finest used instruments from Martin, Fender, Taylor, Goya, Vox, Epiphone, and the like.
A full line of accessories and equipment for the budding and working pro musician are also presented for you inspection. This includes amplifiers from Hi-Watt, Traynor, Laney, and Line 6; strings from D'Addario and Dr. Duck's; cables, straps, and cleaning products from Planet Waves; and much, much more.
To add to the mix, Ohio Music Shop is adding a few select lines of drums and accessories for the percussionists.
In addition, since all of the staff at Ohio Music Shop are working pros themselves, they can offer lessons, guitar setups, repairs to vintage instruments, and advice for learning and gigging musicians alike.
Ohio Music Shop also has, for your rehearsal requirements, a 700 square foot rehearsal space for modest rental fees.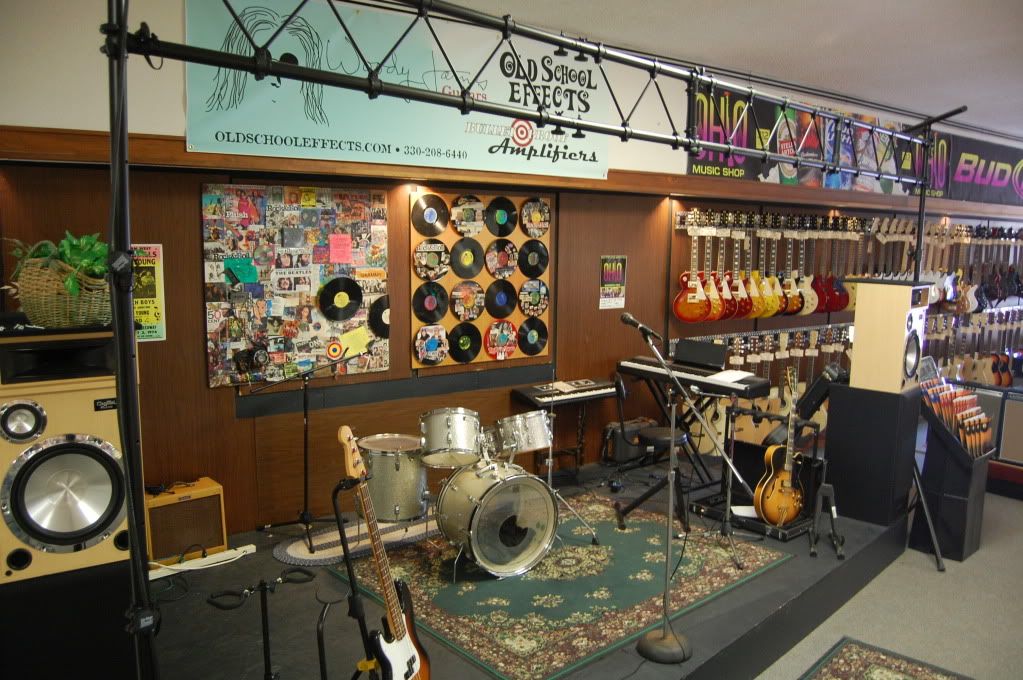 At night at Ohio Music Shop, an irresistible transformation takes place: LIVE entertainment takes over the in-store stage to showcase some of the area's most talented groups and individuals. Blues, Folk, Jazz, Rock, and Open Mic nights fill the week, and on many weekends, high profile, national acts will be performing in this unique venue.
All this in an atmosphere surrounded by musicians who are passionate about music. The relaxed atmosphere is further enhanced with the availability beer, soft drinks, and snacks in-house, and sandwiches delivered from the local deli a couple doors down the street, all available during all hours with emphasis on our unique evening events.
Ohio Music Shop's certified in-house luthier, Woody James, has had life long associations with many of the legends of music. He began by repairing and rebuilding guitars and basses for Ted Nugent, Todd Rundgren, Glenn Hughes, and Joe Walsh. He has built electronics and effects for Elliott Easton, Earl Slick, Gilby Clarke, CSNY, and Stephen Stills. Woody is currently rebuilding Stills' precious pre-1960 Fender Amps used on tours, and has teched for him during a recent tour.
What these and many others continue to experience - now you can, too!
Woody's vast experience is closely paralleled by the partners and staff of Ohio Music Shop - Jeff and Paul currently are the foundations of some of the area's finest bands, such as the Neil Young tribute band, Reil Young. Reil Young features Joe Vitale Jr., the son of legendary drummer Joe Vitale Sr. who has toured exclusively with both the Eagles and CSNY, and is good friends with and a frequent visitor to the shop. You never know who is "just stoppin' in" to visit with old friends when they are performing in the Kent area.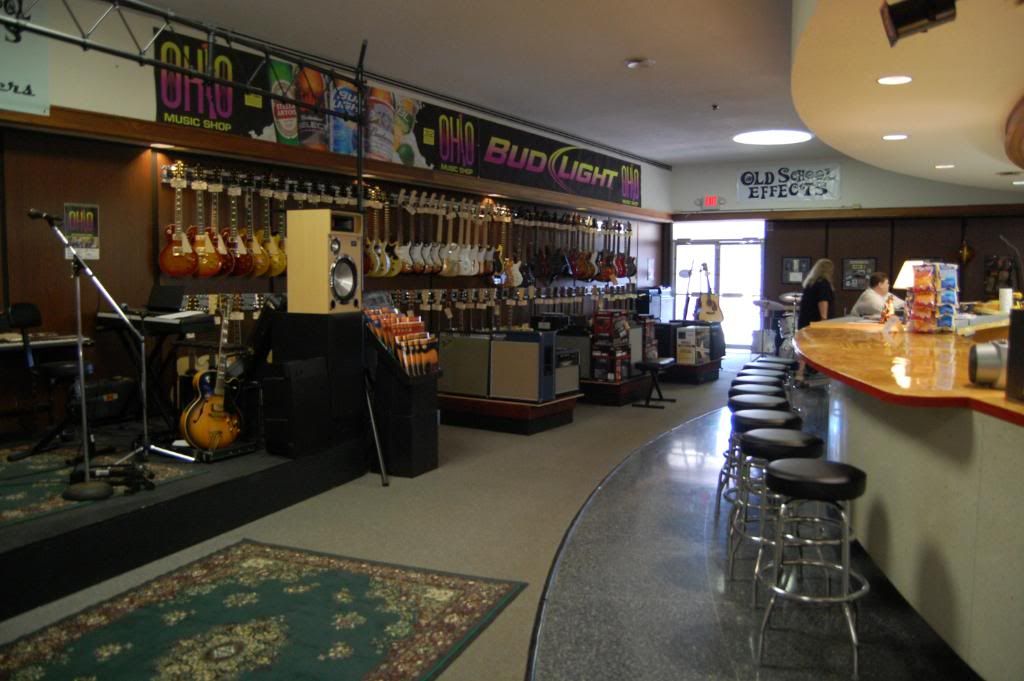 Ohio Music Shop is first and foremost a musical destination emphasizing high quality guitars, basses, and percussion instruments, but it doesn't skimp on all the other clients that crave the enjoyment of music: relaxing and enjoying great sounds with good friends.
Step into Ohio Music Shop today and begin to understand what hundreds of other musicians already have discovered: a single location where you can look, chat, buy, Rent-to-Own, jam, rehearse, or just BEGIN YOUR DREAMS!


The entire staff is here to help you - 'cause we love music!!!